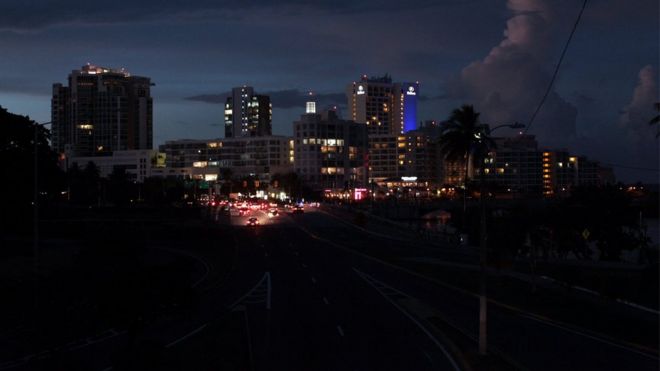 by Nick Carmando
A power line failure in southern Puerto Rico cut electricity to almost all 3.4 million residents, the latest in a string of operational and political headaches for the U.S. territory's bankrupt, storm-ravaged power utility.In a statement, the Puerto Rican Electric Power Authority, known as PREPA, said "technical personnel" were working to determine a cause and expected to restore service in 24 to 36 hours.Puerto Rico's smaller islands of
Culebra and Vieques, as well as a pair of microgrids on the main island, were unaffected.
PREPA has struggled to escape the headlines since Hurricane Maria wiped out power to all of Puerto Rico last Sept. 20.
Maria, the worst storm to hit the island in 90 years, devastated Puerto Rico's grid and thousands were still without power at the time of Wednesday's blackout.
"This is another example of why Puerto Rico's energy infrastructure needs to incorporate new forms of power," Governor Ricardo Rossello said on Twitter, adding that he is "committed" to reforms to transform the island's energy sector.
Separately on Wednesday, the island's federally-appointed financial oversight board unveiled a framework for reform that breaks with Rossello's vision, pushing pension cuts and labor reforms while hinting at layoffs.
PREPA has suffered several blackouts since Maria and has been in bankruptcy since last July, owing some $9 billion to mutual funds, hedge funds and other investors.
In October, Rossello canceled a $300 million contract awarded by PREPA to a tiny Montana-based company amid political backlash.
Three months later, the U.S. Army Corps of Engineers discovered undistributed hurricane relief materials in a PREPA warehouse, sparking Rossello to order a separate investigation.
A U.S. Congressional committee in March announced its own probe into potential corruption at PREPA, including reports that some officials accepted bribes to restore power to exotic dance clubs ahead of schedule.
Rossello is planning to privatize PREPA over the next 18 months, as Puerto Rico navigates a $120 billion bankruptcy, the largest in U.S. government history.
In the short-term, though, the grid remains vulnerable ahead of a new hurricane season beginning this summer.